Where does your money go?
Money raised through Marathon in a Month donations fund life changing cancer research and provide essential services for people with cancer and their families. These supports are needed now more than ever.
By taking part in Marathon in a Month you can ensure that no one has to face cancer alone.
Whether a patient is newly diagnosed, going through or is post treatment this is an extremely stressful time for them and their families. But by taking part in Marathon in a Month you can be there when they need it most.
Just 3pc of our funding comes from the State so people like you who fundraise in their communities and workplace are essential to keep our services going.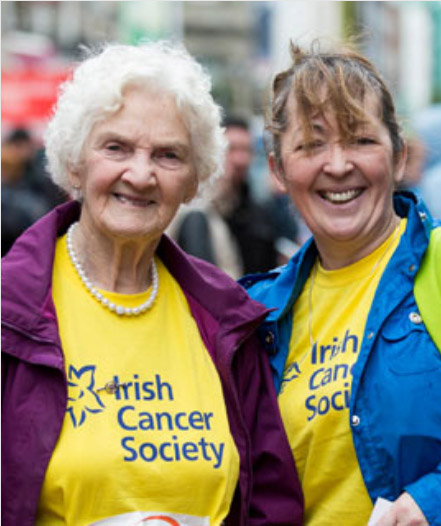 Resources for your fundraising
Top tips for fundraising online
When you register for Marathon in a Month, you will automatically get an online fundraising page. So now you have your page, here's how to make the most of it!
Setting yourself a target not only focuses your mind more on your goal but it will also encourage your family and friends to support you to help you get there!
Add a picture to your fundraising page
Pages with profile pictures bring in 15% more in donations so get your selfie on!
Use your page to tell your story about why you're taking part or who inspired you to take part. If people know why you are fundraising, they will be more likely to donate towards your cause.
Keep your friends and families updated and give them regular updates on social media. It's a great way to thank those that have donated already and who knows--it could encourage them to donate again!
Track your progress using Strava or Map My Fitness. This is a great way to keep your supporters up to date and to thank them for their donations, you never know, it may inspire them to donate again! You can find out how here.
Offline fundraising
How to lodge your funds
Your online donations from your fundraising page are lodged automatically but if you have any cash donations you can lodge them using the instructions below:
Call 1850 60 60 60 and one of our team can take your donation over the phone.
Post us a cheque to Irish Cancer Society, 43/45 Northumberland Road, Dublin 4
We're here to help!
Should you require any help along the way please do not hesitate to get in touch, our fundraising team is more than happy to help!
Contact details: fundraising@irishcancer.ie or call Save 1850 60 60 60.
If you have an issue that is related to your Marathon in a Month JustGiving fundraising page, please contact help@justgiving.com.